Rosie Amber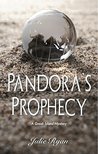 Pandora's Prophecy: A Greek Island Mystery by Julie Ryan
My rating: 4 of 5 stars
Pandora's Prophecy is a romantic mystery set on a Greek Island. The book opens with an introduction to Pandora, a child who discovers she has the gift of prophecy, she can read minds and see auras.
Next we meet several characters who will all meet on the Greek Island. Lisa and Mark are setting off on a family holiday. Ruth and her friend Suzie are about to share a holiday too. Vicky is seeking answers after an argument with her mother. They all stay at a hotel run by Jenna and Nikos.
Pandora's brother Dimitri is an author and he's on the island finishing his latest book. But when bodies start turning up in a copy cat style to one of his books, the police are stretched whilst racing to find the killer.
Fans of…
View original post 394 more words