---
Point of No Return by Diana J. Febry
Posted: 29 Dec 2015 09:33 PM PST
Point of No Return 
by Diana J. Febry
My rating: 4.5 stars
Publisher: Wings ePress
Publication Date: August 1, 2015
Genre: Mystery | Thriller
Print Length: 245 pages
The significance of the noose left hanging outside James Palmer's barn is obvious to everyone in the village. When threats turn to violence DCI Peter Hatherall has to unmask a master of disguise determined to have their revenge.
"Nothing to be sorry about. Your mother can't wait to have you home. We'll soon have you back on your feet again."
Digby shuddered. Gratitude at their blind faith clashed violently with anger. The fear of facing another person, who still believed in him when he no longer believed in himself, sliced through him. The knife glowed red hot, the butter creamy and soft. He reached for the door handle. If he hurled himself from the car, the pain would stop.
"I rang her with the good news as soon as it was announced. She was right happy."
Digby released the car handle and sat on his hands to resist the overpowering urge to wrench the door open. Cold sweat ran down his back as he fought the desire to obliterate himself. The pressure of expectation only an only child can know, pinned him to the seat. He swallowed hard as the turning to the right approached. The switch-back lane followed by a tight turn to the left past Palmer's farm house before the road dipped down towards their small cottage at the foot of the hill. A gush of air involuntarily escaped his lungs as the car sailed past the turning.
 Point of No Return by Diana J. Febry
Are you ready for a good old-fashioned murder mystery that starts out with the tumultuous thoughts of a man in the depths of despair? Was Digby the monster the world thinks he is? After all, he was driving the vehicle that went out of control and killed his passenger in a horrific accident. He blamed James Palmer, who was driving the tractor that impaled his passenger and although cleared of fault, Digby took his life by hanging himself on Palmer's property. Is that what really happened or is there more to the story than meets the eye? Why has someone put another noose in that very tree? What does "You're next," mean?
Enter DCI Peter Haterall and his partner, DI Fiona Williams when Palmer becomes the target of threats. Are these threats more than just idle thoughts or have Palmer's sins finally caught up with him? A wealthy womanizer who seemed to forget he was married with family, he is an outsider in this close-knit community. Accused of everything from being gay to being too rich, the threats are turning actively deadly and the list of possible suspects becomes longer by the day and, as they say, the plot thickens as it becomes an uphill battle for Haterall and Williams to get to the truth.
Point of No Return by Diana J. Febry is a twisted, character driven tale with a dash of dry humor, a cast of often quirky suspects with good cause and a twisted path of clues to follow. From the great dialogue to the mystery of "who dunnit" to amazing world building, Diana J. Febry will stump even the best sleuth out there as we all don our detective gear to ferret out the answers before those dreaded words, THE END!
Enjoy the rollercoaster twists, the subplots and pick your perpetrator, who knows, maybe it was the butler! Great reading and a great mystery that peels back each layer one page at a time as you become hooked and have reached the Point of No Return!
I received this copy from Diana J. Febry in exchange for my honest review.
Capturing Gabriel by Lyn Horner (Romancing the Guardians, #3)
Posted: 29 Dec 2015 07:01 PM PST
Capturing Gabriel
by Lyn Horner
My rating: 5 stars
Publisher: Lyn Horner
Publication Date: December 29, 2015
Genre: Fantasy Romance
Print Length: 141 pages
What's a handsome Colombian psychic with super-hero-power to do with a spirited Navajo beauty who invades his territory? Why, kidnap her of course.

Chopper pilot Josie Tseda served in Afghanistan, extracting soldiers from deadly situations. She knows how to take care of herself. But when she vows to find Gabriel Valdez, a Guardian of Danu, and deliver him to a gathering of the Council of Guardians, she may have bitten off more than she can chew.

Locating Gabriel in the mountains of Colombia is hard enough. Josie didn't count on ending up his prisoner – or on falling for him.

Gabriel is battling Colombian drug traffickers and seeking revenge against the man who murdered his mother. He's not looking for romance and doesn't trust the feisty American female who wants to fly him off to the U.S. The message she conveys directing him to return with her, supposedly coming from the High Guardian, may be a lie to ensnare him and steal the precious scroll he guards.

Yet, he can't help wanting her. Will he allow her to capture his heart or will the secret power he wields ultimately drive her away?
Capturing Gabriel by Lyn Horner
(Romancing the Guardians, #3)
She was sent to find and deliver him to the Council of Guardians. A seasoned chopper pilot, a veteran of Afghanistan and equipped to survive, Josie Tseda is a woman on a mission. Little did she know she was about to be the hunter captured by the game.
Gabriel Valdez is like a ghost, hiding out in the mountains of Colombia, a rebel, a legend and a man who would rather deny his psychic abilities than answer the summons of the Council. He is the Guardian of Danu, the protector of an ancient scroll and his presence is vital. Gabriel has dedicated his life to taking down drug traffickers while avenging his mother's murder.
Taking Josie captive, taking her out of her element seemed like a good idea to protect his people, his secret and his personal battle. But just as he is not the monster Josie thought he would be, she is not the evil deceiver Gabriel imagined. Who would think their "meeting" would end up in a tentative romance that is budding through all of the danger that surrounds them? Like two magnets, they are drawn to each other, but like two donkeys, they stubbornly fight their hearts. Can they learn to trust each other enough to complete Josie's mission or will they find that the rest of the world fades away when they are together. Lives hang in the balance…
Capturing Gabriel by Lyn Horner is part romance, part action, part paranormal and 100% entertainment as she creates a hard scrabble world and brings two souls together at a most inconvenient time! You will chuckle at poor Josie as she is forced to adapt to a totally foreign environment with all the grace of a bull in a china shop and no back up to help her out! Gabriel has his moments, too, when his reputation is revealed as a front for the man he truly is. With his quirky and unique band of "outlaws," once more, Lyn Horner gives us a chance to smile, knowing that, the only ones fighting their attraction are the mouthy and headstrong Josie and the quietly alpha Gabriel! Definitely not heavy or dark reading, this has heat, tension and an great author behind a wonderful plot!
I received an ARC edition from Lyn Horner in exchange for my honest review.
Too Hot To Handle by Susan Arden (Bad Boys Zero to 60)
Posted: 29 Dec 2015 02:45 PM PST
Too Hot To Handle
by Susan Arden
My rating: 5 stars
Publisher: Silver Sprocket Publishing
Publication Date: January 11, 2016
Genre: Contemporary Erotic Romance | Suspense
Print Length: 352 pages
A random hookup too hot to handle? Never say never.
In a grueling game of cat-n-mouse with her step-uncle, it's Margo's move.
On the run, she does a body slide right into the arms of a recently discharged Marine. Outside of a crazy fling, there is zero room in her life for men. Distractions are dangerous to her health.
From working a fence line and dealing with cattle, Rod McLemore is thrust back into the line of duty. And he promptly fails. He crosses the line in a no-brainer mission: go and get the girl. On no hands is he prepared for Margo or her smart-mouth, right hook, and cargo to hide.
Margo and Rod are as volatile as flint and gunpowder. Bordering on taboo, their raw attraction is a recipe for disaster. Especially when the stakes are raised.
Their stormy love affair forces them over the edge and out of their comfort zones as they wrangle in-laws, Mother Nature, and a slick conman. A regular trial by fire. But a battle worth fighting means taking a stand and they'll do whatever it takes to stay together. Even if it means they have to lie, cheat, steal.
Or kill.
o-o-o-o-o-o-o-o
Margo Santero.
Riding in a rodeo with a pack of adrenaline-hyped cowboys isn't what it was cracked up to be. On the run since my mom died, I found out the hard way everyone has a price. And trust is a commodity. This isn't the lifestyle I want, but neither is the demented offer my step-uncle tosses my way. He ups the ante, threatening my horse, forcing me to bolt. One day I'll fix Axel for good. For now, I've gotta a run.
Rod McLemore.
She stormed into my life. A beautiful hurricane with dark secrets, blinding curves, and a smart-mouth I should kiss into submission. She's on the run and needs my help. Not that she listens. But if it's the last thing I do, I'm going to make her mine. Even if it means I have to lie, cheat, deal with her horse from hell…
Or get out my M9. Won't be the first time I've pulled the trigger.
STORM WARNING: This is a seismic erotic romance, detailing a barely-legal runaway and a dirty-talking McLemore. If a fiercely protective aka alpha-male cowboy lights your fire, then you've come to the right ranch.
Too Hot To Handle by Susan Arden (Bad Boys Zero to 60)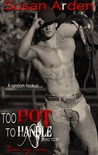 Grab the oven mitts, some ice water and discover what cowboys and cowgirls do to wind down after the last bronc is busted, the last calf is roped and the last barrel has been rounded.
Rod has been roped into picking up his cousin's soon to be sister-in-law at the airport, simple mission, one any ex-Marine, current rancher should be able to handle, meet at the pickup point at the airport, grab the girl and head on back. Then again, he has never met the likes of Margo, a beautiful whirlwind of unchained trouble with a saddlebag full of trouble and secrets following close on her heels. Margo, the footloose rebel in the family, the brazen and mouthy wild child, the one who has room only for "one time only" hot rendezvous. Prepare for the clash of the Titans as one overbearing alpha male and one on the run firecracker find more than lust in each other's arms, and it could prove deadly and dangerous to everyone she loves.
Margo has a disgusting power-hungry, knuckle-dragging step-uncle who is pulling her strings, threatening all that is dear to her and no one can know, but threatening to take her horse is going one step too far, even if he is one of Hell's minions.
Like David and Goliath, follow Margo and her razor-sharp tongue as she fights to keep one shred of dignity, her horse and above all, her family safe from the taint of her uncle's slime. Meanwhile, Rod is breaking her down, piece by piece, until she learns that all men are not created evil and she may have found the one that will stand by her and for her when push comes to shove.
Definitely a suspense-filled plot that sizzles off the pages as Susan Arden uses a blowtorch to scorch each scene across the pages in Too Hot to Handle. Racing from one action-filled scene to another, both under the sheets or in the barn, readers will find explosive sexual chemistry, dialogue that will make you melt, chuckle or rage and the proverbial battle of good versus evil. With a hero to die for, a heroine more volatile than TNT and the uncle everyone warns you to steer clear of, get ready for the ride of your life! Susan Arden has branded this one with her in-your-face style of erotic romance and down and dirty suspense. Check your blush at the door…
I received an ARC edition from Susan Arden in exchange for my honest review.
Shannyn Leah's Week Three – Lakeshore Love – Trio of Winners are:
Posted: 29 Dec 2015 06:07 AM PST
This week's Trio of  eCopy Winners are:
 Nancy J
Sandy D
Dee H
  
Congratulations & Happy Reading!
Don't forget ~ Shannyn Leah has MORE Giveaways going on RIGHT NOW! 
Can Sydney's love stop Jake from running away again?
Lakeshore Love
By Shannyn Leah
Average Amazon Rating: 5 Stars
By the Lake Series – The McAdams Sisters
Publication Date: July 6, 2015
Publisher: Shannyn Leah
Genre: Contemporary Romance
Print Length: 270 pages
Jake Stow is a runner, but Sydney loves him anyway. He ran out of Sydney's life years ago, but is back now and she cannot contain the feelings she has for him. When Jake finally confides he has similar feelings for her, Sydney gives in to the spark. Although she fears he'll run again, she is powerless to the passion between them. Will the secrets he refuses to divulge continue to keep them apart or will their love overcome the mysteries he keeps hidden? It's a chance Sydney is willing to take, but will Jake commit finally to her or will he run like he has before?
"Lakeshore Love" continues the "By The Lake" series about the McAdams sisters from author Shannyn Leah.
This book can be read as a stand alone, but for more enjoyment read them in the order of the series, as all the characters appear in future books.
~~~~~~~~~~~~~~~~~~~~~~~~~~~~~~~~~~~~~~
Sydney's All-natural Lavender Bug Repellent
Sydney McAdams and Jake Stow are outdoorsy kind of people. Whether it is at him cabin, cruising on Joan's boat, or just sitting in the backyard having a campfire and watching Rainbow Fire color the flames. In any event, they will be slathering on the bug repellent to keep away the mosquitoes. Being Sydney is all about all-natural, here is an easy and simple recipe that is safe for your skin and will keep the bugs away!
-17 drops of lavender essential oil
Directions: Combine a mixture 50/50 of water and witch hazel in your spray bottle. Make sure to leave enough room to add the 17 drops of Lavender Essential oil.
To Use: Shake each time you use and spray on the skin, then rub in. 
~~~~~~~~~~~~~~~~~~~~~~~~~~~~~~~~~~~~~~
Shannyn Leah lives in London Ontario, Canada. She comes from an entrepreneurial family, who all have a passion for developing new and exciting business ideas. When she's not writing contemporary romance books, into the early hours of the morning, she's antiquing with her two favorite people, her momma and her sister.Shannyn has published five books in her series, By the Lake, including, Lakeshore Secrets, Lakeshore Legend, Lakeshore Love, Lakeshore Candy, and Lakeshore Lyrics. She is excited to be currently working on the Caliendo Resort, a new series for 2015/2016.
Connect with Shannyn Leah
~~~~~~~~~~~~~~~~~~~~~~~~~~~~~~~~~~~~~~
Caliendo Resort Series
~~~~~~~~~~~~~~~~~~~~~~~~~~~~~~~~~~~~~~
Click HERE to enter to win Lakeshore Candy!
Into the Winners' Circle Please! Announcing the winners of Sara Bain's The Ghost Tree Giveaway
Posted: 29 Dec 2015 05:37 AM PST
The Last Ghost Tree is Dying… 
The Poltergeist Will Return
The five winners of an eCopy of 
The Ghost Tree are:
 Roxanne J-B

Robert N

Pat W

Catherine G

Ashley S

Happy Reading, Everyone!


The Ghost Tree
by Sara Bain
My rating: 5 stars
Publication Date: September 21, 2015
Publisher: Urbane Publications Limited
Genre: Paranormal Thriller
Print Length: 432 pages
A newcomer to a small town must contend with a 17th century poltergeist intent on murder
Five years after the death of his wife, MacAoidh Armstrong moves into a smallholding in southern Scotland with the intention of living a self-sufficient existence. Although he's heard the steading has a reputation for being haunted, the pragmatic Highlander does not believe in ghosts. On a hill by the steading stands the Ghost Tree: all that remains of the former Ringcroft of Stocking. Local legend says, when the last of the Ghost Trees dies, the Rerrick Parish Poltergeist will return. The Ghost Tree is dying and, just days after MacAoidh moves in, he is forced to contend with a number of strange and terrifying events that put his very life at risk. This series of bizarre and increasingly threatening occurrences at The Ring defy all logical and scientific explanation, and compel MacAoidh to face phenomena that will make him question his very beliefs.
~~~~~~~~~~~~~~~
Click below for
From Sara Bain
One of the recurring snippets of advice for an author is "write about what you know."
As a writer of fantasy and paranormal fiction, I always had difficulty following this rule.
When I started writing my on-going fantasy novel (the first book to be published in 2017), I believed I should just sit down and write it; that inspiration and imaginative creativity would allow the story to flow naturally.
Very soon into the novel, however, I realised how little I knew about the world I had created and, to make it credible, imagination was not enough.
I had no idea how to orchestrate a medieval battle and didn't know any knights or kings. I had never lived in a court, so had no clue as to its daily function, administration or castle politics. I am not particularly religious, so the hierarchy, practices and rituals of the church were all lost to me; I didn't know how to wield a sword nor theorise on the best weapon to hit a far-off moving target.
Now some might say that fantasy, by its nature, does not require the elements of possible or probable, but I have difficulty with that too. I have to personally "believe" in all the elements to a story – whether this be created through fact, probability or the bending of natural forces – if I can find a logical, scientific or even supernatural explanation for the existence of a character or event, I am convinced.
In able to make my story believable, therefore, I had to research my subject well.
The favourite section of my library are books on medieval history and warfare and, over the years, I have plundered these texts and got to "know" my subject.
It is startling how, for example, the build and use of a simple axe can inspire a whole scene or develop a character.
Travel and a knowledge of geography have also stimulated much of the topography of my fantasy landscape and, once I built a map, I began with a few characters and the social, political and economic panorama of the world I was beginning to know grew around them.
Similarly, I, mercifully, have never met a serial killer nor know how (nor would wish to) commit murder. All my knowledge of horror, ghosts and hauntings has accumulated over the years through research, movies, books and other people's tales.
My second novel, The Ghost Tree, was inspired by a 1695 poltergeist and a photograph of a tree I took over 10 years ago.
My idea was to write a contemporary paranormal fiction based roughly on the "true account" of the Rerrick Parish (or Mackie) Poltergeist that terrorised an Auchencairn stone mason and his family for a few months at the end of the 17th century.
The only living remnant of the haunted steading is a gnarled old oak, the Ghost Tree, which is believed by the locals to prevent the poltergeist from returning.
The tree is the true inspiration for the novel. It became the pivotal character and the arc of the entire story. That's 432 pages written on the foundation of a single photograph.
Through the processes of writing, an author gets to know their subject, characters and world and research helps to define, colour and give depth to them.
So writing about what you know does not necessarily entail what you know "now". My advice is to start with a piece of inspiration, research as much as you can, and a story will naturally follow.
~~~~~~~~~~~~~~~
I am a writer of fantasy and paranormal fiction. I create worlds of dark and light, of good and evil, of sorrow and happiness. My panoramas, scenes and characters are born purely from a wild imagination – at times extravagant, but never restrained. I don't write 'what ifs' but rather try to create believable stories and characters that my readers can absorb themselves into and escape for a while into my world.
Connect with Sara Bain
~~~~~~~~~~~~~~~
We have a WINNER in CK Dawn's Echoes of Winter Giveaway
Posted: 29 Dec 2015 05:17 AM PST
Thirteen YA Stories -The Perfect Gift for the Holiday Season
PLUS~CK Dawn is offering a Signed Copy of Darkness Echoes 
Announcing the Winner of a SIGNED Copy of Darkness Echoes
Congratulations
Sharmine G
Happy Reading!
Echoes of Winter
By  
L.A. Starkey, DB Nielsen, CK Dawn, Chess Desalls, D.E.L. Connor, Tim Hemlin, Kelly Hall, W.J. May, Lu J Whitley, K.K. Allen, Kathy-Lynn Cross, K.S. Marsden, Fleur Camacho
Publication Date: November 25, 2015
Publisher: BrixBaxter Publishing
Genre: YA Holiday Anthology
Print Length: 915 pages
Thirteen never before seen YA short stories just in time for the holidays!

Book 1: Twelve Days to Christmas by L.A. Starkey
Book 2: Christmas Seasoning by DB Nielsen
Book 3: Merry Chris Witch by CK Dawn
Book 4: Wrapped in the Past by Chess Desalls
Book 5: Butterflies in the Snow by D.E.L. Connor
Book 6: The Darkest Night of the Year by Tim Hemlin
Book 7: Cold Hearth by Kelly Hall
Book 8: Code X by W.J. May
Book 9: Good Saint Nick by Lu J Whitley
Book 10: Soaring by K.K. Allen
Book 11: A Spirit's Last Gift by Kathy-Lynn Cross
Book 12: Winter Trials by K.S. Marsden
Book 13: The Edge by Fleur Camacho 

These stories have never been published before and were written specifically for this anthology. Hope you enjoy this wintery adventure!!
~~~~~~~~~~~~~~~~~~~~~~~~~~~~~~~~~~~
Sure, there are THIRTEEN Authors, but today, CK Dawn is our star!
Coffee loving gamer girl, Sci-fi enthusiast, and sneaker wearing advocate. CK Dawn loves to snuggle up with her cats and read, but found writing fantasy stories was even better. In writing, CK has truly found her bliss. Stay tuned, because there will be a lot more to come in the Netherwalker series. Seriously, things have only just begun.
Connect with CK Dawn ~ it's easy!