Rosie Amber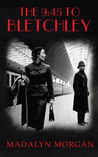 The 9:45 to Bletchley by Madalyn Morgan
My rating: 4 of 5 stars
The 9:45 to Bletchley is book #4 of the Dudley Sisters family WW2 sagas.
This book is about Ena Dudley and her work in a factory making components for top secret Bletchley Park. During WW2 workers in Bletchley were central to the code breaking which British intelligence relied upon.
As with all the books in this series the emphasis is more on the characters and the romantic themes, less so the gritty depth and dark horrors of WW2, that each of the situations the Dudley girls find themselves in.
Once again the book is scattered with nostalgia from the era, as Ena gets herself embroiled in a spy ring whilst appearing to be the love interest for more than one fellow.
Recommended for those who enjoy a light historical romance.
View all my reviews on Goodreads
Book Description
In the…
View original post 227 more words